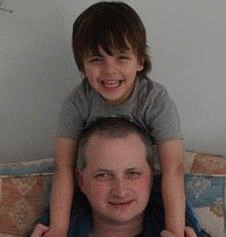 Um.... I'm meant to say something interesting here aren't I?
Ok I escaped Stalag Holloway in 94 after serving a 3 stretch in Maths and Comp Sci (2:2)
I was based in Kingston, Surrey working as a Programmer/Helpdesk support for Bacon and Woodrow. But in short order I got married, moved to Swindon, retired on ill health and became a dad.
I like (deep breath) Star Wars, Doctor Who, Babylon 5, new BSG, Futurama and Terry Pratchett. For many years I have ref'd the "Hunt The Terry Pratchett Book" competition. I was also there at the very first The Institute For Impure Science (IFIS) Peanut Throwing Competition.
In Addition to the massive pile of Who, B5 and other goodies I had on video I was one of the few people in England to own a complete set of Star Fleet episodes on Video. Of course you can now get all of them on Digital VD
And I have a few toys too....
Oh and don't worry that much is you see me on the floor. It's all done without the aid of alcohol.
I'm currently watching every episode of Doctor Who. In order. And blogging about it at http://dweveryday.blogspot.co.uk/
Past roles within the society
IFIS Secretary (1992-1994)