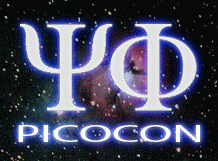 An event hosted by Imperial College Science Fiction, Fantasy, and Gothic Horror Society.
Picocon is a tiny (hence the name) convention organised by Imperial College's own Science Fiction society. There'll be all manner of events through out the day, most notably readings/talks given by the Guests of Honour. This year's crop of famous authors are Adrian Czajkowski, Justina Robson and Tricia Sullivan.
For more details check out their website
The plan for our own trip will be to probably meet up at the station around 8.45 and then head in to London in time to arrive just after the doors open.